Digital Communications (Software)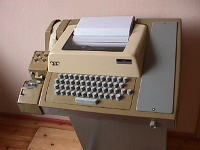 A VERY Brief History:
The rapid expansion of digital communications in amateur radio is all due to the increased computer capabilities and the software that has been developed to process the digital signals. Early on in the years prior to the personal computer RTTY was the only available digital mode (besides CW). RTTY used large mechanical teletype machines to create and decipher Baudot encoded text. Home brew interfaces connected the teletype to amateur rigs. At first these were very complex circuits with discrete components. The interfaces evolved with the electronics into a simple circuit using a 555 chip to encode and 567 chip to decode. A number of manufacturer's sold interfaces, some quite costly.

The advent of the PC changed everything. In the early 80's manufacturer's began to create interfaces called Terminal Node Controllers ( TNC ) that connected the PC to a transceiver. Strange new words entered our vocabulary like AMTOR, Pactor G-TOR. A common mode, called Packet radio quickly became popular as Packet TNCs became readily available at reasonable prices. Amateur Radio U/VHF Packet networks sprung up all over the world, a precursor to the internet.
Somewhere the light bulb went off that every PC contained an analog to digital (A/D) converter; the sound card. The TNC was replaced by a simple, easy to build interface. The signal processing moved from a manufactured black box into the PC and the digital explosion was ignited. Widely used Packet networks quickly disappeared as the internet invaded every home.
PSK-31 was the first real popular non-TNC mode. It was invented by G3PL:X using a decidacted piece of hardware called a DSP (Digital Signal Platform). This was quickly replaced by all software versions utilizing the PC's soundcard. The first programs used tedious tuning techniques that were more confusing then helpful. In 2000 along came a program called Digipan. It immediately became popular as it was free and very easy to use. Since then there have been numerous other digital modes and too numerous to count software applications to support them.
We'll try to cover the more popular modes here:
Multi-Mode Software:
FLDigi: (Free) This is one of the most popular digital mode software applications. it will encode and decode almost every digital mode. is easy to use and can be interfaced with a number of other applications such as N1MM the contesting software and DXLab the free logging program.

MultiPSK (Free) handles more digital modes than any other application, and it is free. Everything from packet to JT-6 can be operated using MultiPSK. The draw back is the user interface is pretty outdated and can be a bit intimidating. But if you want to run some of the less popular modes then this may be the answer.
RTTY Sidebar
Rtty, due to its age can be operated in two very different modes fsk and afsk.
fsk (frequency shift keyiing) utilizes a direct connection to a transceiver's fsk port and various the frequency of the transmitter.afsk (audio frequency shift keying) utilizes your computer's soundcard to generate the RTTY signal.Both result in identical (well almost) signals in the air and are interchangeable at the xmit and rcver ends.
RTTY Software:
MTTY (Free): MTTY is both a stand alone application for operating RTTY and it is an RTTY engine used by other applications such as N1MM. It is probably the best soundcard RTTY decoder available. It is very popular hams who are serious about RTTY.
Integrated Logging and Digital Software:
DXLab (Free): WinWarbler is a limited mode digital application that is included in the free logging application suite called DXLab. WinWarbler is not as savy as FlDigi. It can be run as a standalone digital interface or with DXLab. DXLab does support FlDigi through a third party bridge called FlDigi-DXLabs Gateway.
Ham Radio Deluxe (Retail): Digital Master 780 an 'almost' all-mode digital software application comes included in the HRD package. HRD is a retail logging application with a fee required to download and for support.
THIS PAGE IS A WIP…. MORE TO COME IN THE NEXT FEW WEEKS.
WANT TO CONTRIBUTE TO THIS OR A NEW ELMER PAGE???? SEND YOUR IDEAS AND/OR WRITE UP IN ANY FORMAT TO W2DEN SERC@N4SER.ORG