everyone is invited
Red Cross Building

June 24 and 25
10 AM setup
2 PM start of FD
SNN IS SENDING A TEAM
GUESTS:
Anne Miller from the EOC

Steve Guetschow, Red Cross Disaster Program Manager

Todd Underhill,

Sarasota Soil & Water District elected official.
Read this attachment for details.
Contact Den (W2DEN) SERC@N4ser.org
---
FREE FREE FREE FREE FREE FREE FREE FREE FREE
Moseley Classic 33
3 element triband beam
contact John Martin
jf_ba_martin(AT)yahoo.com
FREE FREE FREE FREE FREE FREE FREE FREE FREE
---
Sarasota Digital Group (SDG Page)


What are we working on?

HF antennas… need two multi-band HF asap.

Finalize the Red Cross radio room.

Also need a few items:

SERC Radio Room Refurbish Fund

Digital Rotor Control Box
3 Headsets
Band-Pass Filters

Configuration TBD
( 40, 80M)
( 10, 15, 20, 40M)
(10, 12, 15, 17, 20, 30, 40M))

---

Antenna Distribution Boxes (HF, V/UHF) (purchased, thanks Brent)
Two UHF Lightning Arrestors and Signalink for Icom IC-781 $267.85 (installed)

Client computer (installed)( $250)

3 audio distribution boxes ($100) < donated (WIP)


UV resistant rope ($115.91 Rcv'd 4/26)*

~30″ TV with HD tuner< Done
75 ohm coax for the TV<donated
HD TV antenna <donated

This fund will be open ended. As items come up they will be added .

As items are funded they will be so marked

All contributions will be tracked by SDG's 'treasurer'

All purchases from this fund will become the property of the Sarasota Emergency Radio Club.

 

Contributors: The SDG Lunch Crew, WA1YZN, WB9AYD, W8XG



---
Thank you and let the giving begin!
The Giving Partner of The Community Foundation of Sarasota County
has approved the Sarasota Emergency Radio Club's profile,
which is now available for viewing and contributing donations at:
http://thegivingpartner.guidestar.org/nonprofit.aspx?orgId=1117058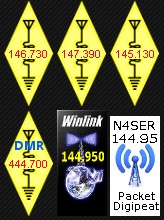 Enjoy reading through this easy-to-navigate site describing our history and our goals with letters of support from The American Red Cross Executive Director, Megarie van Sickle and SERC President Bill Franklin. Thank you both for speaking with your heart in support of our mission.
A 'DONATE NOW' button in the upper right corner encourages potential donors to pledge their support. Donors are able to chose from the Needs list or contribute monetary donations using their credit card.
Club members are encouraged to submit ideas for consideration to be included on the Needs page as spots become available. There are currently five items that are viewable, as that is a maximum number of items that the profile allows. We will rotate the list regularly for good exposure. Throughout the profile there are references explaining SERC's role in local Emergency Communications, different methods and modes used and how they work, and how donations from the community can make a difference.
In the event that a potential donor would like a more in-depth look into the dynamics of our club, it would be important for any of our members to be able to explain the various methods, modes and practices of amateur radio used in our community. This is an invitation to our membership to participate in strengthening the culture of the Sarasota Emergency Radio Club from a passive, ready-to-serve organization into a strong, connected, enthusiastic group of hams who continue to learn, advance and serve our community. Thank you for your support!
Micky Taylor KM4BHF
SERC Grant Committee Chair
---
PayPal
PayPal has made it to the SERC web site YEA!
You can now pay your dues, new or renewal via PayPal.
Navigate to the Join / Contact Page ( HERE )
Pick your membership level (Single or Family) then enter your e-mail and click pay.
Even if you are just renewing please fill-in and submit the membership application so we can confirm your information
This is new so please let us know if you have any problems or suggestions
( SERC@N4SER.org )
Top
---
Sarasota Digital Group
Perhaps you haven't noticed all the packet activity on 144.950 and strange sounds on SAR-6 (443.550 MHz). Well those frequencies have become a bee hive of buzzes and other strange sounds of multiple packets flying around the county.
A small team of locals has been hard at work establishing a rather broad network of WinLink, BBS' and other packet related systems throughout Sarasota County.
Details can be found here: http://n4ser.org/sdg/
Interested?
Join in SERC's Wednesday night net and let the control operator know you want to know more about the SDG or contact us at: SERC@N4ser.org
---
LIVE IN AN HOA?
WANT TO INSTALL AN ANTENNA?
SUPPORT HR 1301 
THE AMATEUR RADIO PARITY ACT OF 2015
All it takes is a letter to Rep. Vern Buchanan
We CAN make a difference. Take 5 minutes and send a letter to the ARRL as explained in the link.
More information is available : Link
---
What to do in case of a local emergency:
Now located on the EmComm Post ( Link )
---
Update: the SERC Digital Repeater Project (DMR)
Micky KM4BHF has written a terriffic article on our DMR installation in our 'Your Elmer' section
Here's the Link
The repeater is on loan to SERC, for as long as we utilize it from Nick DeRoda (N2JTI), Micky's ( KM4BHV) brother. Nick has been an amateur radio operator for 25 years. He climbs towers for a living and resides in NJ. He coached his sister Michele (Micky) who passed the test to become a ham radio operator last year. Michele is an SERC member. Nick donated the DMR repeater and additional support to the club as we get the repeater up and running.  Thank you, Nick!

---
Have you checked into our Wednesday Night Net???
---
---
---
A COPY OF THE OFFICIAL REGISTRATION AND FINANCIAL INFORMATION MAY BE OBTAINED FROM THE DIVISION OF CONSUMER SERVICES BY CALLING TOLL-FREE WITHIN THE STATE. REGISTRATION DOES NOT IMPLY ENDORSEMENT, APPROVAL, OR RECOMMENDATION BY THE STATE